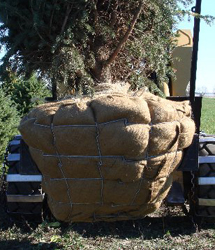 Wholesale Ball and Burlap Evergreens

We dig ball and burlap trees in the spring and fall and all trees are carefully handled to ensure the integrity of the tree. Most all of our trees will come from a sandy loam texture soil and we use only the highest grade baskets available. Balls are double burlapped with chemically treated material.

Species grown include Douglas Fir, Norway Spruce, White Pine, Blue Spruce, Black Hills Spruce, Austrian Pine, and Fraser Fir. Access our wholesale landscape trees page to see tree types and their growth characteristics.

All species are not available in certain sizes, please check before ordering.

We guarantee all trees to be shipped in good condition. Please call (1-231-633-6342) or email for pricing or more information.

Ball size and weight are approximate.

| | | |
| --- | --- | --- |
| Tree Height (In Feet) | Ball Diameter (In Inches) | Ball Depth (In Inches) |
| 5-6 | 28 | 18 |
| 6-7 | 32 | 18-22 |
| 7-8 | 32 | 22-26 |
| 8-9 | 36 | 26 |
| 9-10 | 40 | 28 |
Premium Potted Trees

We also carry a selection of field potted specimens in fiber pots. Species available include Blue Spruce, Black Hills Spruce, Fraser Fir, and White Pine.

All trees are shipped either pre-paid or COD unless other payment arrangements have been pre-approved. Visa/Mastercard or Discover can also be accepted, however, there will be a 3% bank surcharge due on the amount charged. All freight is FOB Lake City, Michigan and payments for freight are due at time of delivery.