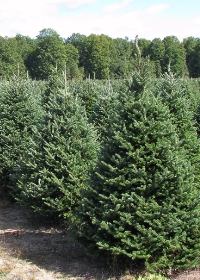 Wholesale Christmas Trees

We have a large selection of Premium Quality Wholesale Christmas Trees for all climates and markets and will be able to provide a versatile selection for resale on your lot. Below you will find information about each of the species available to our wholesale customers.

We grow six species ranging from 3' to 12' tall. Browse below to view images and descriptions for each variety of the trees we grow.

Terms of Sale:

Orders are due before September 1st every year to ensure stock. A minimum 25% deposit is due upon placing the order and a second payment due by October 15th with the full amount due before shipment.

Other payment terms and credit arrangements are available upon credit approval.


View Pictures

Named for John Fraser (1750-1811), a Scottish botanist who explored the southern Appalachian Mountains in the late 18th century, the Fraser Fir is a beautiful fragrant tree with great needle retention. It is by far one of the most popular species of Christmas tree due to its form, dark blue-green color, pleasant scent, and excellent shipping characteristics.


Fraser fir is a uniformly pyramid-shaped tree with strong branches that are turned slightly upward which gives the tree a compact appearance.


View Pictures

Nationally the Douglas Fir remains as one of the most popular wholesale Christmas trees species being sold today. The needles are dark green or blue green, 1 to 1 1/2 inches long, soft to the touch and radiate out in all directions from the branch. Douglas fir are liked for their dense bushy shape and fine soft needles which require little maintenance and have good retention.


Plantation trees are normally sheared and will produce a crop within 7 to over 10 years depending upon the site and growing area.


View Pictures

With its attractive blue foliage and symmetrical pyramid shape the Blue spruce is another popular variety of Wholesale Christmas tree we offer. Needles are generally bluish-gray to silvery blue but some trees have a more distinct bluish-white or silvery-white foliage. This tree has extremely sturdy branches and its needle retention is among the best of the spuces.


Like the Black Hills variety it is another slow grower requiring 8 to 11 years to reach a marketable 6-7 foot tree.


View Pictures

With its dark green color and short stiff needles the Black Hills Spruce has become another favorite among buyers due to its conical form and deep green color. Growth during the first 10 years after field planting is relatively slow with 8 to 11 years required to grow a 6-7 foot tree.


Contact Watsons Wholesale Christmas Trees for more information about any of the species listed.


View Pictures

Probably the most common and traditional species of wholesale Christmas tree. The scotch pine are a great seller as they are the most economical and is probably the most commonly used species in the United States. For several years it was the favorite species of large eastern wholesale growers because of its excellent harvesting and shipping qualities. It is also a preferred species for many choose and cut growers in much of the eastern and central United States.


Normaly 6 to 8 years are required to produce a 7 to 8 foot tree.


View Pictures

The long, soft needles of the White pine give it a pristine full look. For Christmas trees, sheared trees are preferred, although some people feel shearing results in trees too dense for larger ornaments. Needle retention is good to excellent. White pine has very little aroma, but, conversely, is reported to result in fewer allergic reactions than do some of the more aromatic species.


To produce a 6-foot tree requires 6-8 years on good sites.

View Pictures

As a Christmas tree, the canaan/balsam fir has several desirable properties. It has a dark-green appearance, long-lasting needles and attractive form. It also retains its pleasing fragrance. Needles have a broad circular base and are usually dark green on the upper surface, lighter on the lower surface.


To produce a 6-7 foot tree requires 8-10 years on good sites.