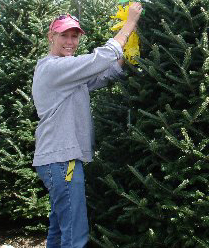 Christmas Tree and Plantation Services

With more than 50 years of experience we can provide full custom care services to your Christmas tree plantations. We can offer complete management of your planatations and offer the following services:

- Field Prep and Planting
- Trimming
- Custom Harvest
- Buying and Selling
- Custom Digging

We do enormous amounts of work to produce a premium product and take pride in the quality we offer.

Some of those practices include:

* The formation of clear stump handles by basal cutting lower limbs off. This presents a clean stump for inserting into the tree stand.

* All Christmas trees are visited once a year to be pruned and shaped by hand.

* We do annual fertilization to produce the freshest green trees possible.

* We begin harvesting as late as possible – generally around the 15th of October to assure the best possible freshness.

* Upon cutting the trees, they are baled and stored to protect them until shipping.

A visit to our farm is encouraged to see the quality of our products and services. Call us today for rates on any landcaping or agricultural needs. Whether it be your trees or ours you can trust us with your investment.

A list of references are available.